We explain what they mean, how they work, how certain UAE businesses are using it, and how you can get started with a Chatbot to engage leads today!
They say robots may replace 800 million workers by 2030!
Right now, a particular breed of bot, the chatbot, is replacing your customer service rep.
But why are chatbots proliferating in the business space?

via GIPHY Is it the promise that they could one day make amazing disco companions, like Nathan found out in Ex Machina?
Well, sort of.
W x 5 + H
First, let's understand how chatbots work, and then we'll appreciate what makes them choice employees.
Chatbots use Natural Language Processing (NLP), a form of Artificial Intelligence (AI), to respond to verbal/written conversation or commands given by a user. The chatbot processes the input, runs it through a series of algorithms and then picks the best responses to answer the query or further the conversation.
What makes chatbots so darn attractive is that they're actually quite easy to put together. (Below we'll share with you a great link that'll teach you how to get started with your very own bot on Facebook)!
And they operate on the typical brand-customer interaction dynamic today i.e. by engaging with the customer that initiates the interaction, as is typical for inbound marketing.
If your brand does any of the following, we think chatbots ought to be your next hire:
1. Customer service – to respond to queries about products, special events, special offers
2. Troubleshooting – to provide use instructions and to help customers figure out how to open the damn thing
3. Engage on social media. For shout-outs, hollers, and the like…essentially, to deepen your followers' engagement with your brand.
Social Media Bots
Facebook Messenger is the third most-used app in the world and over 1.3 billion people use it every month to communicate with businesses. And increasingly, brands are using a chatbot within Messenger to engage their target audience.
Now's as good a time as any to jump on board with the Facebook bot, as the competition is not stiff – there are 300,000 active Messenger bots out of 6 million advertisers.
Why the Facebook Messenger Bot
Here are some reasons why a Messenger chatbot is a good place to test the waters with chatbots:
1. It's where your target audience is
Pretty much everyone is on social media, and if they're on any platform at all, it'll most likely be Facebook.
The UAE's Freedom Pizza trialed a Facebook chatbot last year. The temporary promotion allowed fans on Facebook to place orders via the chatbot, which opened up a new market for customer acquisition. As Brand Manager, John Morgan, shared with us, "Convenience is the name of the game now and reducing transaction times is mutually beneficial for vendors and consumers alike."


Setup your first Chatbot on Facebook! To get started with your own bot on Facebook, follow this simple setup guide by Social Media Examiner.
2. Reduce labour hours
Chatbots can run 24 hours a day. Obviously, your sales team can't.
If you're dealing with a large volume of leads, chatbots can help filter those leads to those that are better prospects. Pass only better qualified leads to your sales team to follow up with.
Finally, they have the knack for answering the same questions over and over and over again, all while staying easy-breezy-cool.
3. Sell your products
Convenience is key. Whether it's pizza or a hotel room that you're selling, chatbots can be configured to guide the entire process from when a customer gets in touch to when they complete their purchase.
4. Engaging with customers post-purchase
With a chatbot, it's easy to keep track of and retain information regarding your customers' purchase habits. A chatbot could add a 'personal' touch to the transaction by asking the customer whether they received the delivery, whether they enjoyed the product, and to solicit other feedback.
UAE businesses and government entities have increasingly been adopting chatbots. Dubai Electricity and Water Authority's (DEWA) chatbot, Rammas handles customer enquiries. And the logistics firm, Aramex, which launched its chatbot on Messenger, provides customers shipment tracking info and allows them to select their preferred delivery pick-up point.
Be the Best Bot that you can be
Here are a few best practices you should keep in mind as you test a chatbot for your own brand:
1. Know what you want your chatbot to do (and whether they can do it)
Chatbots can be designed for a multitude of reasons, and it is important that you know what your bot will be doing. If it is for customer service, you can assign your bot to do only that and assist that department. Or if it is to increase brand awareness, you can build a bot that will engage visitors and be useful to them.
2. Use ready-made options where possible
According to Dashbot, a chatbot analytics platform, users spend more time interacting with a bot when there are ready-made options available. DEWA's Rammas follows suit.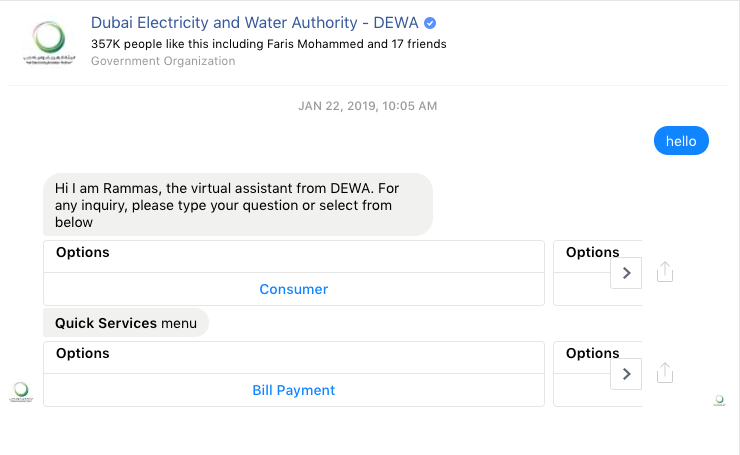 3. Know your bot's limitations
No matter how advanced a chatbot is, there are still things it can't do. Like Siri won't update your phone software, bots don't eliminate the need for the human element. Also consider that some of your leads or customers would prefer talking to a human, so you need to have that option available as well.
4. Don't rush your chatbot design
While it may be tempting to jump on the chatbot bandwagon, it is extremely important to discern first whether you really need a chatbot and if yes, then to allocate the time and human resources to design and test it before it's ready for launch.
Chatbots are a growing phenomenon, and if your business fits the profile described above, chatbots will also be the way forward for your brand. Smartly designed chatbots help you save resources and be efficient, but it also shows the world that when it comes to serving your customers, you're on digital's cutting edge.