In this post, we look at some admirable examples of Ramadan ads that you can consider following. And then we also look at the more regrettable ones, and what specifically made them fail.
As part of our Ramadan Marketing series, in 'Ramadan Reboot', we showed you how to effectively incorporate the 'spirit of Ramadan' in your offering and to differentiate your Ramadan marketing strategy, while staying away from boring, typical approaches.
In this post, we look at the best and the worst of marketing during the Holy Month.
Let's start with the top 3 Ramadan marketing fails.
Top 3 Biggest Ramadan Marketing Fails:
1. Ronaldo scores an own goal in this Egyptian Steel ad
Many of us love Ronaldo, even if he does come off as inauthentic when claiming to be fouled on the football pitch.


Pity, then, that he also came off as inauthentic off the pitch in this ad for Egyptian Steel.
Verdict: Poorly-executed CGI gave the ad the feeling of being inauthentic. And the last thing you want your Ramadan campaign to convey is inauthenticity.
2. Zakat House and Egyptian Charity with Dalal Abdel Aziz

The ad showed famous Egyptian actress, Dalal Abdel Aziz visit a woman from a poor village in Beni Suef, Egypt. The villagers live in stark poverty and lack clean drinking water.
Abdel Aziz's reaction to the fact that the villagers were drinking polluted water came off as elitist. When this ad originally aired on Egyptian TV, viewers took offence to the fact that a charity organization, and not the government, was the body responsible for providing clean, drinking water to Egyptian citizens!
Verdict: Although the charity does very important work, the delivery was insensitive, and the public was quick to pick up on the classism and elitism in the ad.
3. The infamous Pringles display at Tesco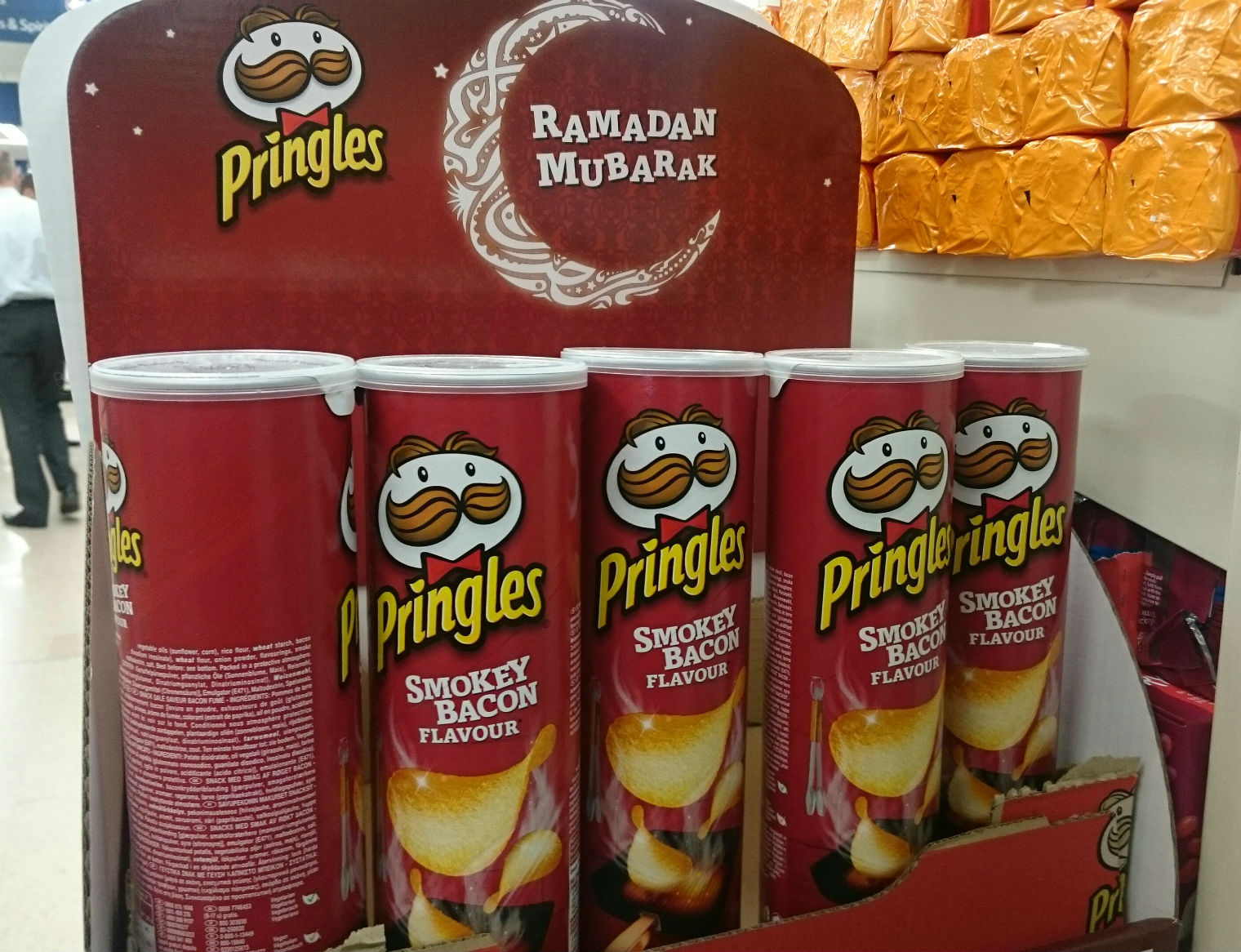 Bacon? For Ramadan? Really?
Verdict: Both irrelevant and offensive.

Top 3 Biggest Ramadan Marketing Wins
While telecom, banking and finance tend to dominate the Ramadan marketing scene, here are a few prized dates from the food, FMCG (fast moving consumer goods) and construction industries.
1. Al-Marai captures the spirit of Ramadan
Al Marai created a feel-good ad that reinforced the good deeds and generosity that exemplify the Holy Month. Ma'amoun Yafi, Head of Communications at Al-Marai, explains how the ad was conceptualized so that it would stand out from all other ads during the period, in spite of it communicating the traditional message of charity.
2. Nutella spreads the love
Nutella ran a #justaddlove campaign about kind acts one does to make a difference in other people's lives. The result: heart-warming, fuzzy-feeling, feel-good user-generated content:
3. El-Garhy Steel
This is a steel ad where the audience is laughing with you, not at you (ahem, Egyptian Steel).

What is great about this ad is that it is humorous, clumsy, and about the construction industry for goodness' sake! Yet, by making the analogy between construction steel and personal conviction/strength necessary for those fasting during Ramadan, it's both relevant and refreshing and outdoes the competition as most brands tend to play it safe with the more typical and traditional messages of charity and shared iftar meals.
Do you have any of your own best and worst creatives from Ramadan? Share them with us in the comments!
On a closing note, remember that Ramadan runs for a month, so think about a web/video series where you keep rolling out content over the 30 days. Think also about longer form content than what one is usually accustomed to producing, as people watch more and longer video during Ramadan.
If you would like assistance for your upcoming Ramadan campaign, fill out the form below and we will be in touch within 48 hours.