As Ramadan draws to a close, we thought now's the time to look at the three ads that have stood out the most this month.
As part of our blog series on marketing during the Holy Month of Ramadan, we showed you how to effectively incorporate the 'spirit of Ramadan' in your brand's offering and then also looked at those ads worth following, and others better forgotten.
Now, let's look at the three ads we loved most this Ramadan!
1. TATA Motors on the right path

This ad was a winner for a number of reasons:
1. It told a story, and stories that are long-form content are what viewers watch during Ramadan.
2. It emphasized the spiritual values of Ramadan – of sharing, caring and helping the needy.
3. It was heart-warming, showing the big hearts of little six-year-olds who came together to make a difference in their bus driver's life.
2. Banque Misr remains unbreakable

Banque Misr has been around for a century and prides itself on being a pillar of Egyptian economic development. The title of their catchy Ramadan tune is, "I'm the son of Egypt, unbreakable".
This is an ad that's witty ('unbreakable' also means 'not going bankrupt'), catchy, peppered with celebrity singers and feel-good. Of course, it's also relevant to Ramadan because it attempts to draw parallels between its own economic resilience to the personal conviction/resilience necessary for those fasting during Ramadan.
One thing we would say however, that although it is a long-form ad, and these do well in Ramadan, this is not a long-form 'story', and so the 3-minute clip doesn't work as well for this jingle as it would for a story, like Tata Motors' above.
Ana ibn Misr, Ddid ilkasr… see told you it was catchy!
3. Lenovo MEA
Disconnect to Reconnect.
Wow! One brand we won't forget this Ramadan is Lenovo! And curiously enough it's not because they've bombarded our screens with heavy advertising. In fact, they're doing the opposite. They're going off social media to emphasize the need to disconnect from technology during Ramadan to communicate more with those near and dear!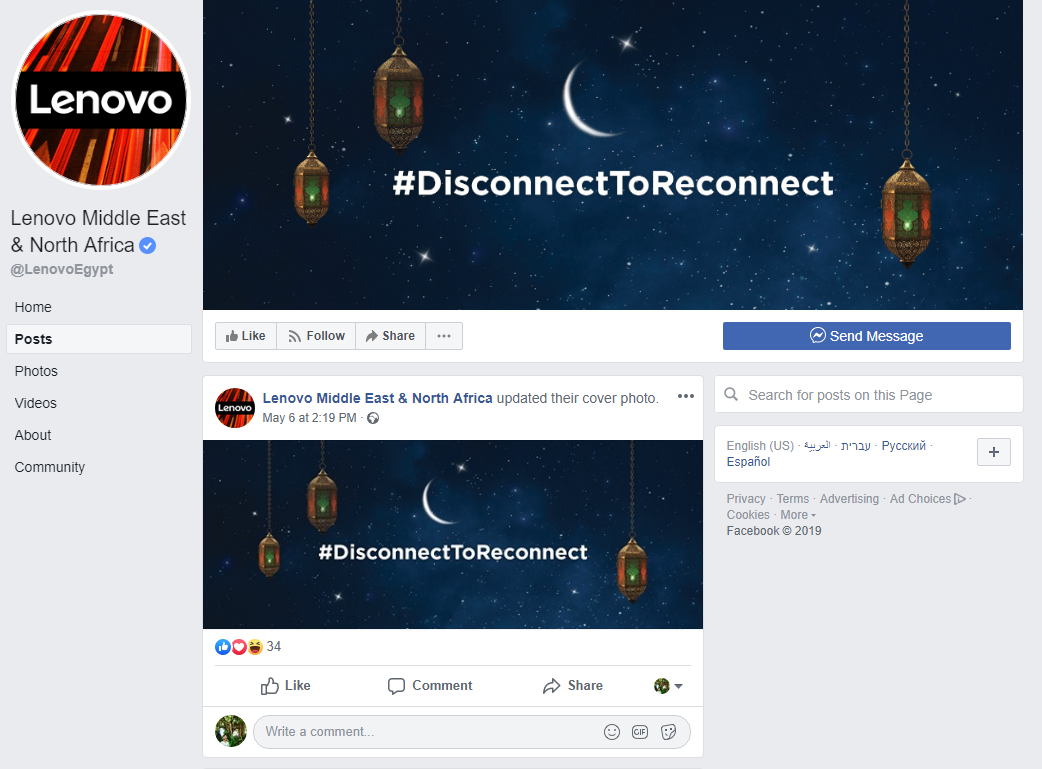 Screenshot of Lenovo MEA's Facebook page!

Well, that's what we've loved so far. What about you? What ads stood out for you so far this Ramadan – and where did you catch them – youtube, on the telly in-between musalsalaat, or on social? Let us know in the comments below!
Happy Eid!